Gearing up for SoundCloud Global Meetup Day
Let's use sound to bring us together. We see it connect people at weekends as they swarm to clubs to dance to their favorite songs, comedians use it to bring laughter to groups of people, Universities use it to teach and educate. The way we use sound is different for everyone, what does it mean to you?
SoundCloud Global Meetup Day is calling cities around the world to get together and let us know 'The Meaning of Sound, According to You'. We want to tell you a little bit about what's going to be happening:
San Francisco is full of all sorts of artists, techies, musicians and audiophiles who interact with sound every day, sharing, reshaping, listening, connecting and working with it in exciting new ways. Sound must mean something different to every single one of them and we want to capture that. At this meetup there'll be installations showcasing how various people use SoundCloud and what it means to them.
We'll be at The Summit Cafe, 780 Valencia from 7-10PM. Find out more on Facebook and Meetup.com.
London – 'One day, One sound, One cloud'
UK electronic artist Benji Boko will create one piece of music, in one day using one sound from each person from all around the world, submitted via SoundCloud. Benji will receive these sounds, working live whilst in-the-mix to craft a totally bespoke piece of original music. Contribute by sending sounds via a dedicated tab on his Facebook page.
"I'm looking for anything organic, rhythmic or ambient. This means nothing produced by machines. I want people stomping, clapping, hitting, slapping, walking, laughing, beatboxing, shouting and so on. Same goes for instruments, anything that sounds old and retro. ukuleles, guitars, mellotrons, pianos and so on. Any additional ambiances of crowds, parties from other SoundCloud meetups!"

Come down to the London meetup where Benji will be recording sounds for the track at the event. All this will take place at London's prestigious Strongroom Studios with the Meetup starting at Strongroom bar from 6.30pm onwards. Let us know if you're attending on Facebook or Meetup.com.
The University of Virginia will be showing us why sound is so important for education. University Lecturer Ryan Millerr is gathering his students to discuss and create, as well as performing a rendition of their University song, 'Alma Mater'. This will be a great way to engage students in their studies and discover passions for sound. If you're a student of the University of Virginia, kick off your University year and join the meetup here!
UVA Soundcloud meet-up by rymillr
Citizens of Windsor, Canada, are taking sound and turning it to 11. On Global Meetup Day they will be visiting Ambassador Bridge, the busiest International boarder crossing in North America and recording how loud that sound is. Then in the evening they will be trying to take things louder, by going to a Napalm Death concert and comparing the two. The meaning of sound in Windsor must be how loud can it go! Find out how to get involved on Meetup.com. Windsor Meet-up! at Windsor, Ontario by dB (deadBatteries)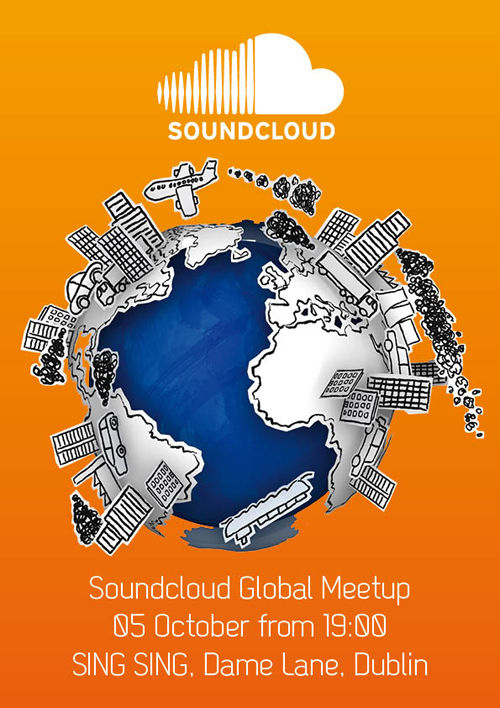 The Meetup in Dublin is all about sharing and networking! Meeting up with other users can be an amazing way to spark new ideas and sounds, by attending this meetup you could learn a whole new side to using SoundCloud. Dublin will be hosting talks about how to effectively integrate SoundCloud with an online strategy, Q&A and performances from SoundCloud users this is a really great opportunity to develop how you use sound. Find out more on how to get involved on Facebook, Meetup.com and for those who can't attend the Meetup, you can stream the event live on the internet
SoundCloud Meetup in Dublin – Oct 5th 2011 by annie@limebase
New York, USA – 'Sound of the slice'
In New York we'll be slipping slightly off topic and will be asking the controversial question – what's the best pizza in New York? Community Fellows Ed Casabian (the NYC Nomad), Eduardo Lipe (Without Walls Project) and Dave Haynes from the SoundCloud London team, will be asking fellow New Yorkers to embark on an audio hunt for the best pizza slice in Lower Manhattan. Does John's Pizzeria get your tongue salivating? Does the original Ray's really hit the spot? Or does Lombardi's just trump them all? Get involved by heading down to your favorite pizzeria and record the sounds that make YOUR pizza joint the best.
This pizza scavenger hunt will start in lower Manhattan at the John's Pizza at 12pm and we'll see where the day (and our fellow New Yorkers opinions) take us! Be one of those New Yorkers and get involved here.
Global Meetup Day Announcement by steadyeddie
Take inspiration from these cities and put your cities voice on the map. SoundCloud wants to hear what sound means to you, be it in a song, in form of opinion, however you interpret it, let us know. Get in touch with us and let us know what your city will be doing. We want to hear what goes on this Global Meetup Day, so we'd love to gather all these sounds for the world to hear, drop them into this group so we can shout them out for all to hear.
How to get involved:
– Find or set up a Meetup in your city
– Tell us about it
– Send us your sounds from the meetup